Established: 1869
Location: 2202 Washington Street
Grades Served: 7-8
History: Mission is the latest name of the Bellevue Public Schools building located on the northwest corner of Mission Avenue and Washington Street. Built in 1869, it was known as Bellevue School District #1 until 1911, when it was renamed Main School. In the early 1950s, the school became known as Bellevue Junior/Senior High School and educated students grades 7-12. In February 1962, when the new Bellevue Senior High school opened for grades 10-12, the school was again renamed to Bellevue Junior High School for grades 7-9. When a second junior high was built in 1966, students helped name the two buildings by sending recommendations to the Board of Education. Bellevue Junior High School became Mission Junior High School and later Mission Middle School. The name Mission honors the first school built in Bellevue by the Presbyterian Board of Missions in 1846 serving Omaha, Pawnee, and Otoe children. When the Omahas sold their land to the federal government in 1854, they gave one square mile of land in present day Bellevue to the Presbyterian Board of Missions. Mission Middle school is located on this historical Mission Reserve.
School Mascot: Mission Braves
School Colors: Purple and White
School Purpose: Mission Middle School commits to being an exemplary school by operating as a CLASS ACT, doing whatever it takes to ensure that our students reach their highest level of success.
Principal: Jenny Powell, Ed.D.
Roof Replacement (Maintenance)
Gym Bleacher Replacement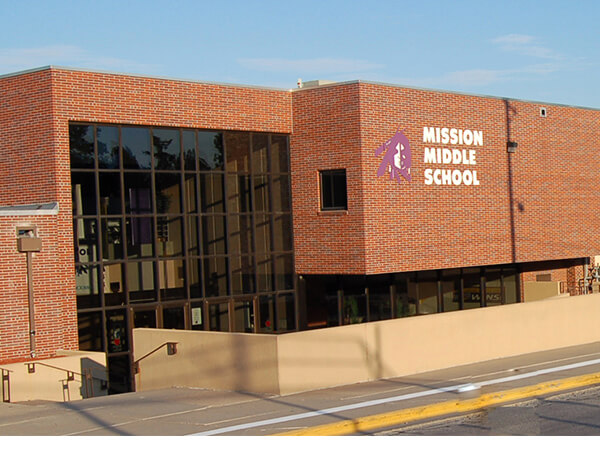 <! ========= Cool Timeline PRO 3.2 =========>
January 1, 2018

May 10, 2018

August 10, 2018
School Improvement Planning Begins

Anticipated Construction Start

Anticipated Construction Completion
Last Update: January 21, 2018